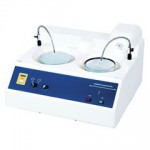 Top Tech E-F Manual Grinding Polishing Machine
Top Tech E-F manual grinder polishers are ideal for smaller labs where either there is small throughput of samples, or where samples vary in size and shape. The system offer dual direction platen rotation to ensure even grinding and polishing and variable speed control from 50 to 600rpm.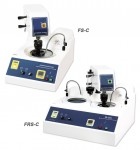 E series Automatic Grinding Polishing
The next level of automation in preparation is the FRS-A and FRS-C grinding polishing machine. Based on single or twin bases these spring loaded heads enable either single sample preparation or sample holder preparation. These solutions are perfect for consistency in preparation. The motorised heads mean that all of the modern consumables that are now available can be utilised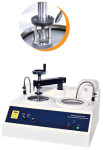 Top Tech E-F-M1 Manual Grinding Polishing Machine Attachment
The E-F series has the option of a sample holding arm. This converts a manual grinder polisher into a semi automatic one (E-F-M1). With this, the variation in hand preparation quality is eliminated. A very simple and effective design.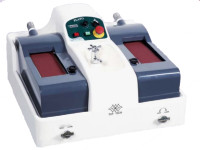 Top Tech E M-P100WR Twin Belt Grinder
For fast plane grinding we are able to offer the M-P100WR bench top twin belt linisher. The M-P100WR offers a variable Speed belt movement to allow for many different materials. A Water tap for washing samples. A heavy duty motor and solid bench weight of 54kgs. A stainless Steel anti splash guard and a easy changing of belts.