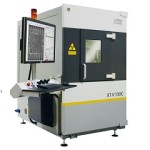 Nikon XT V 130C – Cost effective X-Ray inspection of electronic component
The XT V 130C is a highly flexible and cost-effective electronics and semiconductor inspection system. The system features a 130kv/10 watt Nikon Metrology manufactured source, a globally recognized open tube design with integrated generator, and a high-resolution imaging chain.
Nikon XT V 160 high-quality PCB Inspection System
The XT V 160 has been designed to cater to the need in production lines and failure analysis laboratories. Equipped With precision joystick, users can easily control the 5-axis sample manipulator. Real-time X-Ray allows them to intuitively navigate complex printed circuit boards and electronic components and quickly trace defects.