Instec TS102Si Thermoelectric Stage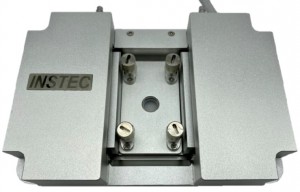 Overview
The TS102Si Thermo-electric (Peltier) based stage is specifically designed for inverted optical microscopes and is particularly ideal for applications such as Cell culture and biology. The TS102Si can accommodate both petri dishes and microscope slides with its optional cover lids.

Key Features:
Dual Heaters
Peltier heating/cooling module on both side of sample area for better temperature uniformity

Reach Below Ambient without LN2
-25°C with standard C100W, or -30°C with C500W Chiller
Rapid Heating Rates
+150°C per minute max rate

Cover Lid Options
Cover lid options to accommodate standard microscope slides, petri dishes, capillary tubes & more.

Accuracy and Stability
A pt100 platinum RTD sensor is embedded into the sample heating and cooling block to guarantee high temperature accuracy and stability. The RTD sensor is calibrated to measure the temperature of the surface of the sample heating block – giving the closest and most accurate reading of sample possible. Additional sensor option and alternative sensor, such as a thermistor, option is also available.

Technical Data